Industry experts and media professionals gather to discuss 'The Future of AI in Manufacturing Industries'
Share - WeChat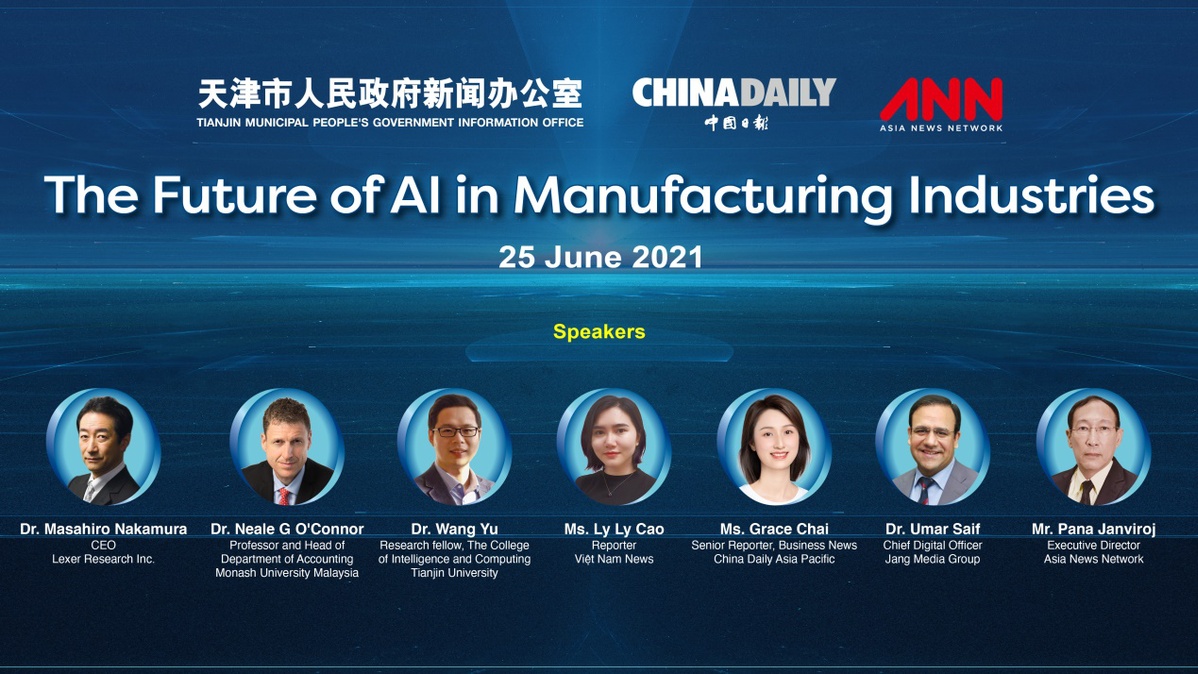 A webinar, themed "The Future of AI in Manufacturing Industries", co-organized by China Daily, Tianjin Municipal People's Government Information Office and Asia News Network, was held on June 25, 2021. Industry experts, journalists, academics and researchers from countries along the Belt and Road joined the event online.
The development of artificial intelligence in China and elsewhere will have ramifications in the transformation of manufacturers not just in China but in Asia and the rest of the world. There are opportunities and challenges for businesses as they embrace digital transformation. How can China, Asia and the rest of the world work together to achieve a win-win situation?
China's policy on AI is included in the 14th Five-Year Plan (2021-25), in which the State Council issued a plan that sets benchmarks for China's AI sector — with the value of core AI industries predicted to exceed 1 trillion yuan ($155 billion) and make the country the global leader in AI innovation by 2030.
For example, Tianjin was selected as one of the core cities to advance its AI technology. In 2018, Tianjin set up a 100 billion yuan fund to invest in AI technologies, and the fund was increased by 30 billion yuan to help build the city into an advanced manufacturing research and development hub.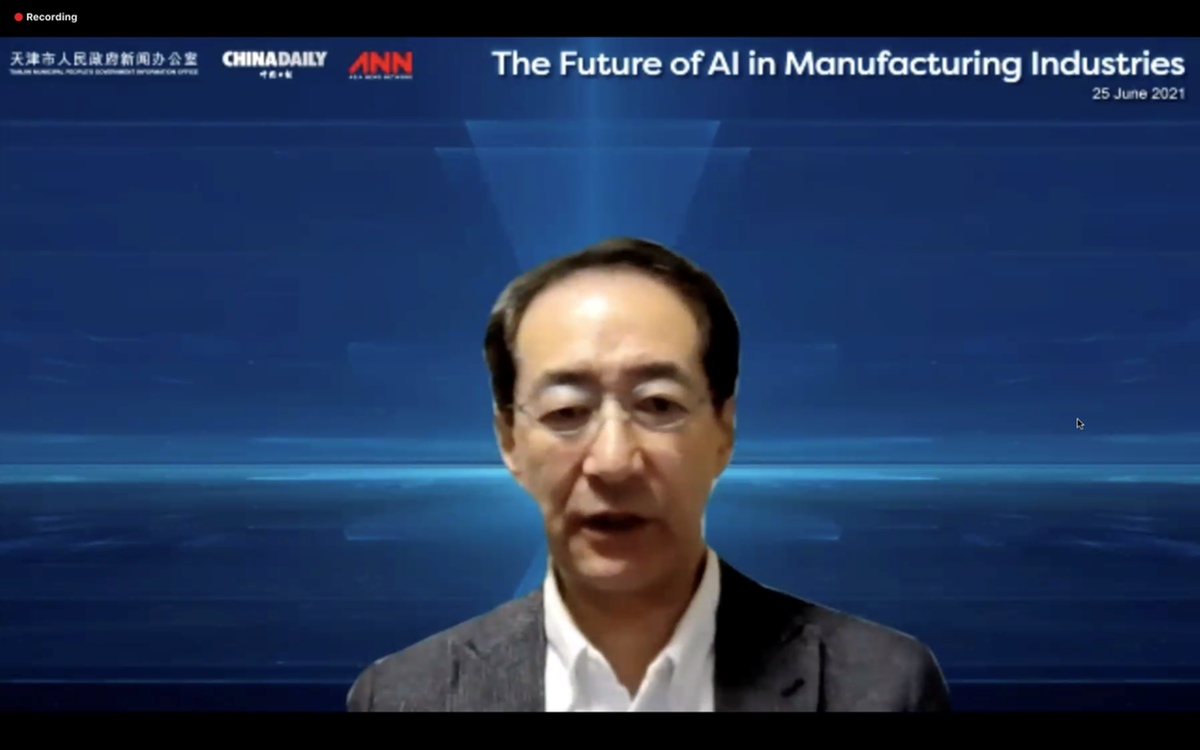 Dr Masahiro Nakamura, CEO, Lexer Research Inc.; Dr Neale G. O'Connor, professor and head of the Department of Accounting, Monash University Malaysia; and Dr Wang Yu, research fellow, The College of Intelligence and Computing, Tianjin University, delivered the keynote addresses.
Nakamura said we are racing to the AI technologies for much functioning, but there are difficulties in the production process, as well as in production and resource management.
O'Connor pointed out a big challenge in some factories is the owner's mindset. Many owners don't have a strategic vision for making it conducive for the factory to make A-class products. They have gone from product to product very much, not so focused on developing the talent and the skills in their organizations. "A lot of factories today are at the continuous improvement stage, we need a lot more effort to move to the next stage of digitalizing so we can start to capitalize on the opportunities that AI brings us," he said.
Wang said AI today has fully penetrated people's lives in their work. It is widely used in many fields, including medical treatment or our culture, government operations, entertainment, retail, transportation, finance, and in manufacturing.
Moderated by Pana Janviroj, executive director of Asia News Network, and DJ Clark, multimedia director, China Daily Asia Pacific, the panel invited Ly Ly Cao, a reporter for Vi?t Nam News; Chai Hua, senior reporter, business news, China Daily Asia Pacific; and Dr Umar Saif, chief digital officer, Jang Media Group, to share their insights. O'Connor and Wang also joined the panel discussion.
Ly Ly Cao said we can see huge improvements in Vietnam's technology development as the market is prominent for many investors now. "When we mention Vietnam, most people's first impression would be cheap labor market, it's a challenge for some small and medium-sized companies to apply new technology at this moment. There is still a long way to go, but it's a good start to use technology in Vietnam," she said.
Chai Hua said the development of intelligent technology is primarily focused on talent, especially in manufacturing industries, and that we should develop novel talent training models and accelerate the cultivation of more AI talent in manufacturing.
O'Connor said there are many university students who take related undergraduate majors before coming to the factory while doing internships. There are big possibilities for them to become engineers in AI technology.
Saif said AI machine learning can help analyze all the information you need. "Companies such as Coca-Cola need to get the information from data. For every shop, they collect data so they can know what they should produce next month," he said.
Wang said that manufacturing sectors have paid attention to manufacturing, but maybe most of them cannot hold intelligence. "The new AI models designed by the researchers are applied but for some complex scenes like manufacturing, we still have a long way to go. But we have a big market and I hope we can go further in terms of technology and deep learning," he said.