Award-winning sounds
Share - WeChat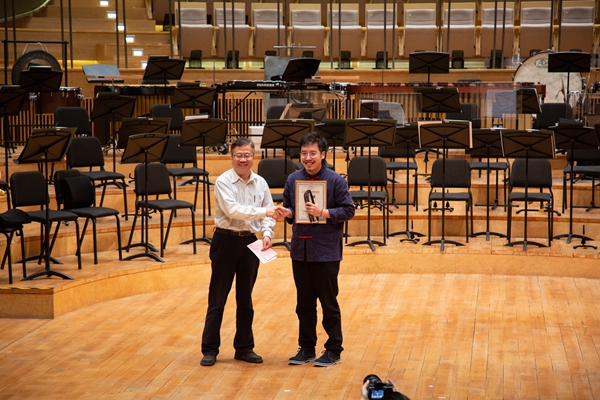 Composers compete in international competition to create music inspired by the city of Suzhou, Chen Nan reports.
At the 2021 Jinji Lake International Composition Competition on Saturday, 22-year-old Wen Ziyang took home the top prize.
Home to the Suzhou Symphony Orchestra, the Suzhou Jinji Lake Concert Hall staged the competition finale concert on the same day and Wen's award-winning music piece Immerse in Landscape VI was performed by the Suzhou Symphony Orchestra under the baton of conductor Zhu Qiyuan, featuring 21-year-old French horn player Zeng Yun. Zeng won the first prize and gold medal in the brass category of the XVI International Tchaikovsky Competition in Russia in 2019.
Wen's music piece was inspired by the ancient city of Suzhou and consists of four chapters: Wuyue Dynasty, Hanshan Temple, Huqiu and Jinji Lake, all named after some of the most important periods and famous scenic places in Suzhou.
"As a child, I traveled to Suzhou with my family. The picturesque canals, stone bridges, temples, gardens and pagodas made our trip very memorable. When I grew up, I returned to the city and was intrigued with its contemporary architecture aside from its traditional culture," says Wen, who is also a student from the Central Conservatory of Music. He received a 100,000 yuan ($15,460) cash prize as the winner of the competition.
A native of Chengdu city in Sichuan province, Wen learned to play the piano at the age of 4 and learned to compose when he was 6 years old. He comes from a musically inclined family with both his parents working as teachers at the Sichuan Conservatory of Music. In 2013, he enrolled to study composition at the middle school affiliated to the conservatory. And in 2016, he began studying composition at the Central Conservatory of Music in Beijing under veteran musicians including Jia Guoping, Chen Yonggang and Qin Wenchen.
"For me, composing is like writing diary entries. I compose every day, which is usually about six hours a day," Wen says. "As long as I bring my computer with me, I compose anytime and anywhere, such as the bus station, dormitory and restaurant. Composing is a way to express my emotions, which goes beyond words."
Immerse in Landscape VI took him four months to finish and it is part of Wen's compositional series Immerse in Landscape. The series highlights the cultural history of Chinese cities, places the young composer has traveled to.
He says it is a valuable experience for young composers to have their works performed by professional musicians at concert halls.
Most Popular