China's top envoy to US says farewell
Share - WeChat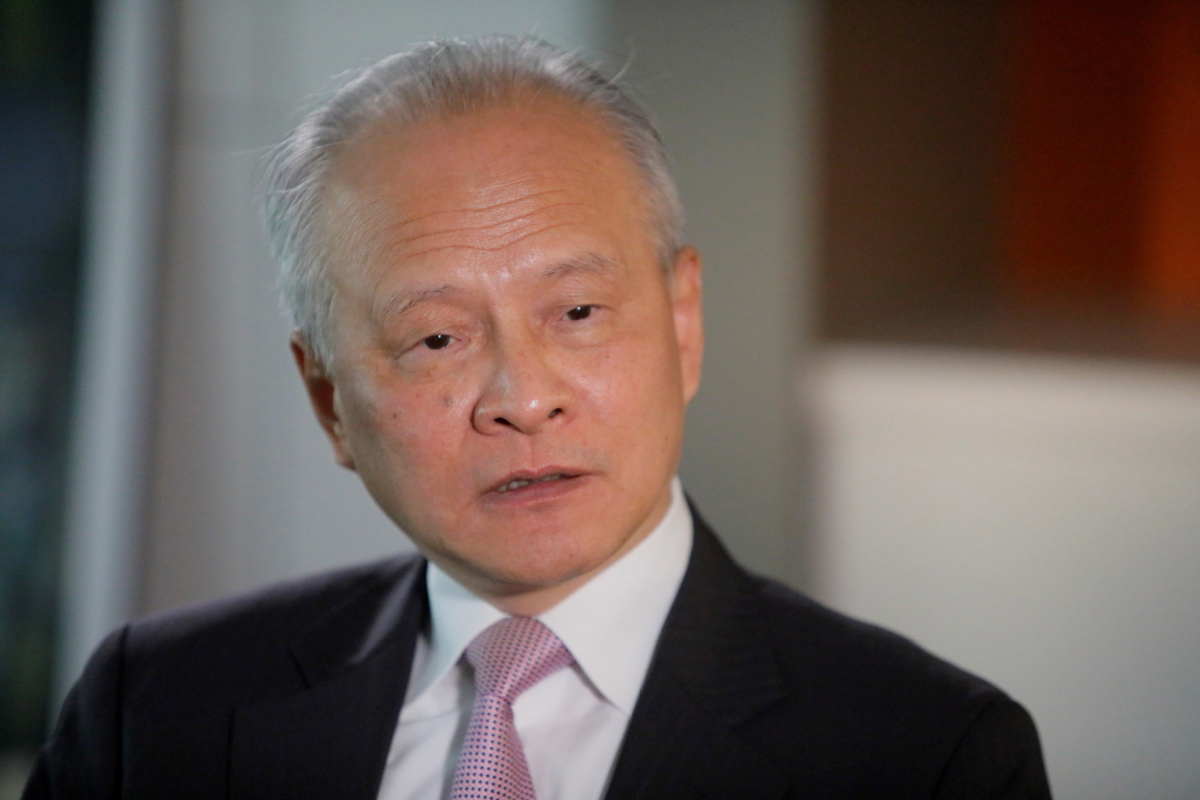 Cui Tiankai, the longest-serving Chinese ambassador to the United States, will leave his post for Beijing soon, ending his long-standing work on the forefront in dealing with the world's most important bilateral relations, which have yet to rise from their lowest point in decades.
Since beginning to serve "as China's ambassador to the United States in April 2013, I have been working in the US for more than eight years", Cui, 68, said in a farewell letter on Monday night.
"I will leave for China soon. This was the longest term in my diplomatic career abroad, which allowed me to experience many historic events, meet many friends, and left me with memories for life," he said in the letter addressed to the Chinese community in the US.
Cui said the China-US relationship is at a "critical crossroads", and that as US policy toward China undergoes a new round of restructuring, it faces a choice between dialogue and cooperation, or confrontation and conflict.
To many Chinese people, Cui is an example of how education can change a person's life in China.
"I was just a young high school graduate working in the remote rural area in the Chinese northeastern province of Heilongjiang," Cui said at a reception on April 17, 2013, days after his arrival in Washington.
"When I read about the news of (former US secretary of state Henry) Kissinger's visit to China, I just had a fancy idea that someday I would come here to see this great country with my own eyes," he said.
As a result, Cui attended college, became a teacher and then began training as an interpreter for the United Nations in 1979, when China and the US forged diplomatic relations.
He studied at Johns Hopkins University in the mid-1980s before returning to Beijing, working his way to vice-minister of foreign affairs and ambassador to Japan before being appointed as China's top envoy to the US.
To those in Washington and beyond, Cui is a veteran diplomat with keen acumen to navigate waters at a time of heightened tensions between the two countries.
Andrew Mertha, director of China Studies at Johns Hopkins University's School of Advanced International Studies, said smart countries send their "very best" to represent them abroad.
In an earlier interview with China Daily, Mertha said Cui "understands the different political realities in both countries and is able to navigate them extremely well".
"He absolutely represents China's interests, but he deeply understands US views as well," Mertha said.
The professor recalled that he was part of a delegation that met with Cui years ago, and the ambassador was "extremely critical" of US policy regarding the South China Sea.
"We were suitably chastised," Mertha said. "And his is one of the most intelligent, articulate and persuasive voices advocating for engagement, a point of view with which I strongly agree."
Yanzhong Huang, a senior fellow at the Council on Foreign Relations, an independent US think tank, tweeted about Cui's planned departure from the US, saying: "He will be remembered as a gentleman and a seasoned diplomat during difficult times of US-China relations."
Half of Cui's tenure was during former president Donald Trump's administration, which held the view that China is a primary strategic threat, which Beijing says is an "illusion" of some US politicians. That view led Washington to increasingly set its relations with Beijing on a collision course.
"One myth claims that the US policy toward China in the last 40 years has failed, as China has not copied the American model in its political and economic systems," Cui said at a symposium in January 2019 to mark the 40th anniversary of the establishment of China-US diplomatic relations.
"Obviously, people holding this view have no idea why we established diplomatic relations in the first place. At least China never has the slightest idea of transforming the US, and not a single US administration so far has formally taken changing China's social system, development path or ideology as its official policy," he said.
The 10th Chinese ambassador to the US has had frequent and frank talks on major US TV networks. On many occasions, he debated with news anchors on issues ranging from Xinjiang and Taiwan to the COVID-19 pandemic.
Cui had been consistent in interviews and articles in expounding his view that China and the US both gain from cooperation and lose from confrontation, and that cooperation is the only right choice for both sides.
The ambassador has also promoted people-to-people exchanges between China and the US, cautioning that the understanding deficit is more significant, and more difficult to balance, than the trade deficit between the two countries. He also said it might have a more long-lasting negative impact "if we don't make our best efforts to reduce it".
In his farewell letter on Monday, Cui said he hoped overseas Chinese would "continue to be a firm promoter and active contributor to the healthy and stable development of Sino-US relations".
"The China-US relationship has never been a simple relationship, and it has never been a relationship that can be handled easily," Cui said when he spoke at a welcoming party on April 20, 2013, just days after he presented his credentials to then president Barack Obama. Joe Biden was then vice-president.
As Cui is about to leave the US, Biden has now been president for around five months.
In a congratulatory message to Biden on the president's first day in office, Cui said, "China looks forward to working with the new administration to promote sound and steady development of China-US relations and jointly address global challenges in public health, climate change and growth."
There was no announcement yet of who will be China's next ambassador to the US.