Keeping good company
Share - WeChat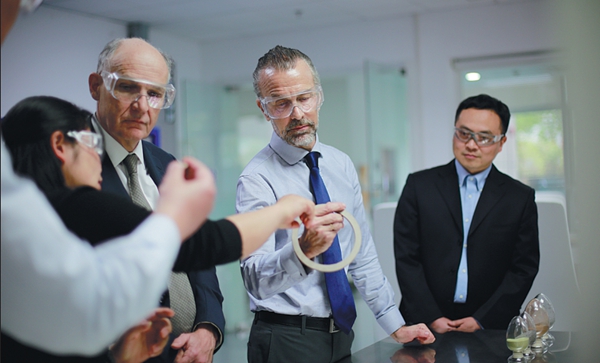 Spanish head of French firm in Shanghai granted 'green card' in recognition of contribution to his adopted home, Zhong Nan reports.
Javier Gimeno, 57, a Spanish citizen working in a French company in Shanghai, did not expect China would grant him and his family permanent residency, the equivalent of a "green card", last year.
The privilege, in his view, came remarkably quickly as Gimeno, who is group senior vice-president and CEO for Asia-Pacific operations at Saint-Gobain SA, a French industrial conglomerate, his wife and their two children relocated from Paris to Shanghai just over a decade ago. The Shanghai municipal government recognized his value addition to the local economy.
Holders of permanent residency in China enjoy a range of conveniences unlike other expatriates who have to use their passports to travel inside the country and renew their visas periodically.
Life in China is much easier with a PR card, he says. Whether to buy a high-speed train ticket at short notice or board a flight at the last minute to visit his employer's plants and clients or check into hotels, Gimeno uses the card instead of his passport.
China has made notable progress over the last 11 years. It is a much more open country today than it was one decade ago-a country in which business life is dynamic, fair and easy, he says.
Gimeno was president of the French Chamber of Commerce and Industry in China from 2015 to 2019.
"The government's efficient collaboration with the business community has created a fairly supportive and fruitful environment," says Gimeno.
"I have been amazed by the speed and depth with which the country has been able to transform its economic model in recent years, with a growing weight of technology, innovation, creativity, research and development.
"We have witnessed a huge qualitative leap of China in the global value chain, going from pure manufacturer to creator, designer and innovator."
He says all this has been accompanied by a shift toward a sustainable, green and digital society.
The Paris-based Saint-Gobain plans to open at least 10 plants during China's 14th Five-Year Plan period (2021-25), including one in Yangzhou, Jiangsu province, to ramp up its production capacity in China and meet growing demand for plaster board products and other construction materials.
In September, Gimeno received the Shanghai Magnolia Gold Award, which is granted by the municipal government to recognize expats who have made outstanding contribution to the social and economic development of the city.
Most Popular